System
Maximum living and working comfort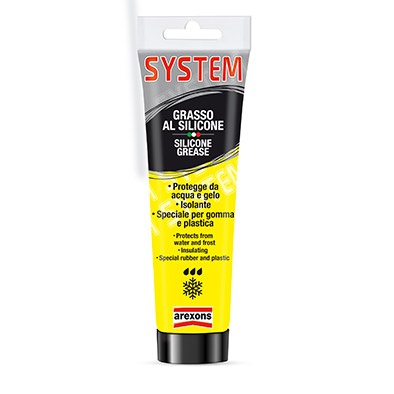 Description:
A lubricant for rubber seals, rubber and plastic switches and toroidal sealing rings, and for the assembly of metal/plastic, metal/rubber and plastic/plastic combinations. It lubricates valves, pumps, worm screws, compressors, meters, taps, plastic mechanisms. It protects electrical and electronic systems. It isolates vehicle and watercraft ignition systems against humidity. It is a select polydimethyl silicone fluid-based infusible lubricant for the lubrication of cable and battery clamp connectors, taps, winches, precision mechanisms. It lubricates within a temperature range between -40°C and +200°C. It is resistant to fresh and salt, hot and cold water. Odourless and colourless.
Product information
Image
Product code/name
EAN
PCS

5001

-

Grasso al silicone 100 ml

8002565050010
12
Ask the Experts
Service available only for Italian and Spanish market

L. Altieri
To get any kind of information on which product.