Clothes and Sponges
Get your car back as new
Wizzy Rubber, Plastic and Seals Restorer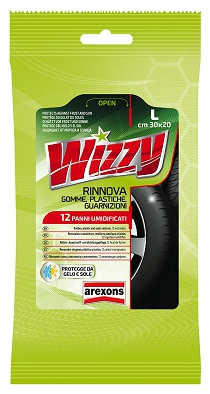 Description:
Wizzy Rubber, Plastic and Seal Renewal is the effective and extremely fast-acting product to polish tyres and make them look like new after washing. It is also very effective for renewing all exterior plastic parts on the auto body, in fact, it is a solution for white streaks on: bumpers, moulding, window frames. Used on rubber seals it protects and renews them, and avoids sticking (caused by freezing or sunlight) and is accordingly recommended for: car doors, trunk doors, windows, sun roofs. It is ideal for treating and nourishing PVC convertible tops.
Product information
Image
Product code/name
EAN
PCS

1911

-

Wizzy rinnova gomme, plastiche e guarnizioni 12 panni

8002565019116
6
Ask the Experts
Service available only for Italian and Spanish market

L. Altieri
To get any kind of information on which product.